Navy Federal Credit Union
Navy Federal Credit Union Campus – Phase Two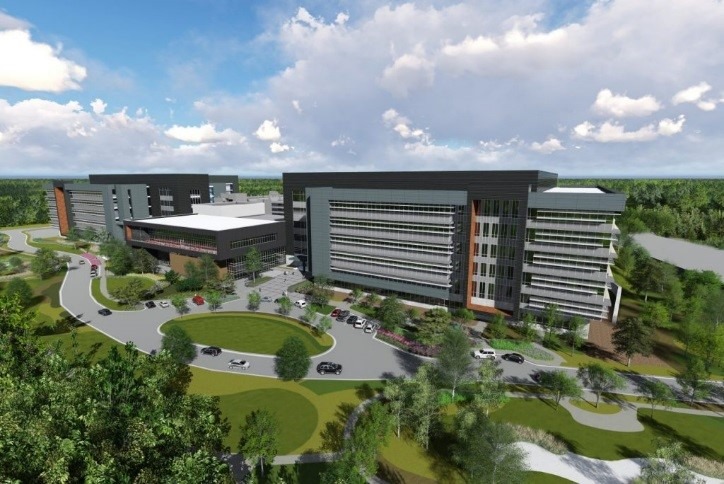 Warren Doors & Access Control has worked as a doors, frames, and hardware consultant, supplier and installer for the expanding Navy Federal Credit Union campus in Pensacola since 2003. Warren Doors & Access Control has provided doors, frames, hardware and access control services for Building 2, Building 3, Building 4, the Central Energy Plant, and the latest work on the Phase Two development.
Phase Two of the campus expansion includes Building 7, Building 8 and the Amenities Building which joins the two buildings. This phase also includes the addition of two parking decks. The current projects include the hardware scheduling of more than 1,400 interior and exterior doors. Navy Federal Credit Union uses a man-made veneer on wood doors so that the look is consistent on every door, in every building.
Warren Doors & Access Control Senior Manager, Dana Wetherbee, serves as the hardware consultant to the architect for the project, along with project manager Patricia Barranco and install manager Ryan Walsh, coordinating the scheduling for hollow metal doors and frames, aluminum doors and frames, wood doors, all hardware and automatic operators. The Warren Doors & Access Control team includes both a licensed electrician and professionals with low voltage experience who handle the wiring of the hardware of the door openings including the lock sets and exit devices.
Timeframe: 2003 – present Phase 2: 2016 – 2020 (final building)
Project Features
Warren Doors & Access Control has worked with several different contractors and architects (local and national) on the Navy Federal Credit Union campus.
All doors are custom-ordered at a non-standard height of 8' 10.5".
Door hardware is pre-installed at the Warren Doors & Access Control shop in a controlled environment to save time, improve quality control, and make on-site installation more efficient.
Okaloosa County Courthouse

The construction of the new three-story Okaloosa County Courthouse in Crestview spans more than 1700 square feet per floor. In collaboration with Ajax Building Corporation, Warren Doors & Access Control installed 236 hollow metal and wood doors with the addition of some electromagnetic hardware. The building was completed with restricted access including multiple door hardware, interlock systems, and delayed egress hardware for security purposes.
The Warren Doors & Access Control team, led by project manager John Griffing, had extensive consultations with the architect and security teams to create noteworthy designs and ensure all end user security needs exceeded expectations
Project Timeframe: June 2017-2018

Project Features:
Operating hardware and trim were installed on doors by our skilled on-site technicians before jobsite delivery. They were then transported to the jobsite and staged for installation utilizing a delivery system designed by Warren Doors staff specifically for this purpose
Warren Doors & Access Control, in collaboration with Skanska and Lord & Son contractors, also supplied and installed material for the Okaloosa Courthouse Annex Extension in Ft. Walton Beach, Florida.
Studer Family Children's Hopsital at Sacred Heart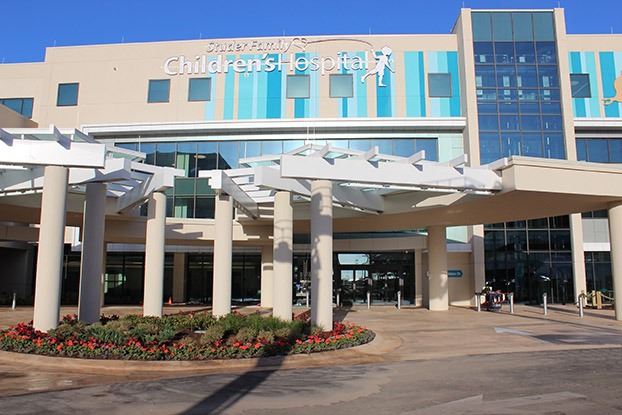 For the new four-story, 120,000-SF Studer Family Children's Hospital, Warren Doors & Access Control worked closely with Hoar Construction and HKS Architects to coordinate the doors, hardware schedule and specifications for this new addition on the Sacred Heart Ascension campus.
Warren Doors & Access Control assisted the design team in selecting Marshfield Impact Edge doors over more traditional stainless-steel edge doors found in many hospitals. The Marshfield door systems offered high quality durability and a significant cost savings compared to other door products. Over 90% of the more than 900 doors installed in the new hospital are Marshfield Impact doors. Warren Doors & Access Control also provided the electrified hardware for the interior door systems.
As part of the Warren Doors & Access Control services, the team worked with the hospital's existing security system to develop and install a new master key system. A Schlage master access system provides a new level of high priority access across the Sacred Heart campus for key personnel in management and building maintenance personnel.
With limited storage space on the site during construction, Warren Doors & Access Control pre-installed door hardware in the shop to save time by delivering complete door units, ready to install. A team of 7 Warren Doors & Access Control professionals coordinated this project, from early planning to final completion.
Timeframe: February 2018 – April 2019
Project Features:
900 doors
Lead-lined doors for radiology/CT to meet hospital standards.
Door finishes are the hospital interior design color standard, chocolate malt. Wood paneling was also installed to coordinate with the door design color scheme.
Door hardware was pre-installed in the shop to save time during on-site installation.
Access Control Master key system (Schlage) installed.
Project Team: Hoar Construction and HKS Architects
Escambia County Correctional Facility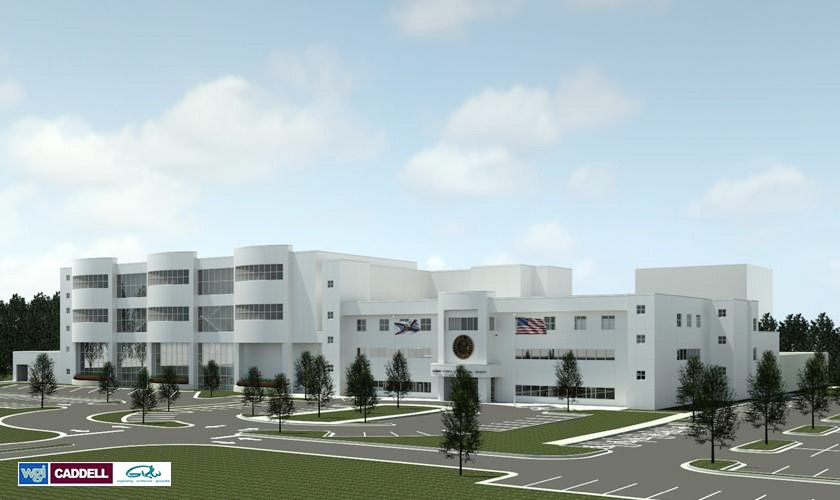 The new Escambia County Correctional Facility is a modern, three-story, 300,000 square foot detention center housing over 700 inmates. The building was designed to help compliment future commercial offices and homes in the redevelopment area in Midtown Pensacola. The design incorporates energy efficient and sustainable elements throughout.
Warren Doors & Access Control project manager Dale Pittman, with over 23 years of experience, has been an integral part of the process advising on the right quality of products and materials needed for this installation to stand the test of time. Meeting the highest standards of quality and security, we are collaborating with Caddell, Whitesell-Green, Cornerstone Detention Products, and GRW Architects, in supplying and installing heavy gauge hollow metal doors, frames, and detention security hardware for 300 high security openings.
Project Time Frame: October 2018 – 2020
Additional Take-Aways:
51 custom hollow metal window and sidelight frames installed and built in-house.
Installation of new Best Access Control restricted keyway for all the commercial grade correctional facility locks.
Project Team
Caddell, Whitesell-Green, Cornerstone Detention Products, and GRW Architects
Bodacious Bookstore and Cafe at Southtowne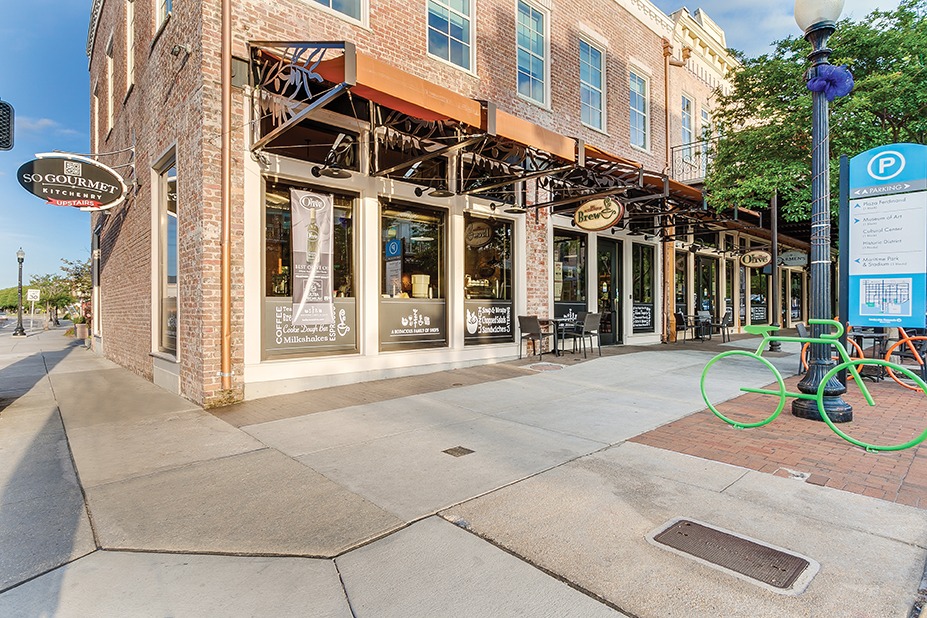 Warren Doors & Access Control is working with BEAR Construction on the latest Bodacious project, a new Bookstore and Café on the first floor of the Southtowne Apartments. The bookstore and coffee shop has a window storefront and is part of the growing retail development in downtown Pensacola. Warren Doors also worked with BEAR Construction on several other Bodacious projects including the renovation of the Bodacious Brew and Bodacious Olive.
Timeframe: 2018 – Opening August 2019
Project Team: BEAR Construction